The Original History Walks® are guided tours explicitly designed for school groups. The walks combine the sight-seeing of traditional guided tours with thematic storytelling (you can learn about everything from science to literature!) and a pack of educational material, in English, Spanish, German, French or even Latin. You can now find us in eighteen cities across the north of Italy and in four cities in England. Scroll down to find out more.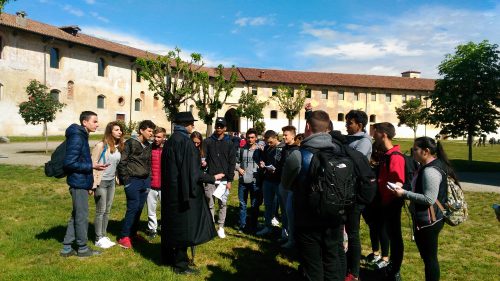 For Italian schools
We mainly work with Italian school groups – 22,000 students in the 2018/19 school year – and we designed The Original History Walks® as CLIL activity trips. The walks are accompanied by preparatory reading, to cover the important vocabulary and information, as well as a test for after the activity – all prepared by us for you, and all adapted to the level of the school. Our walkers are all mothertongue, or at least have a very high standard of your chosen language. You can read more detail on our dedicated Italian site, or contact us.
For foreign schools
The Original History Walks® can be a great way to explore Italy and England, while still learning lots! Our walks follow different themes, such as the Magna Carta in Salisbury, English literature in Winchester, Geoffrey Chaucer in Pavia, The Black Death in Milan, or Galileo in Florence. The best thing to do is to get in touch with our office – don't worry, we speak English, and even Spanish!
We offer guided tours for schools in Italy in Busseto, Bologna, Casale Monferrato, Ferrara, Florence, Genova, Mantua, Milan, Monza, Parma, Pavia, Piacenza, San Gimignano, Siena, Turin, Verona, Vigevano and Voghera, and in England in Winchester, Salisbury, York and Durham.